Thank you for visiting HeavyEquipmentForums.com! Our objective is to provide industry professionals a place to gather to exchange questions, answers and ideas. We welcome you to register using the "Register" icon at the top of the page. We'd appreciate any help you can offer in spreading the word of our new site. The more members that join, the bigger resource for all to enjoy. Thank you!

ALL NEW MEMBERS READ THIS FIRST!! Thank you for joining Heavy Equipment Forums! If you are new to forums we communicate with "Threads", please search our threads to see if your topic may have already been answered and if not then click "Post New Thread" in the appropriate forum. This will allow all of our members to see your question and give you the best chance to be answered. After you've made a number of posts you will graduate to Full Member status where you'll see a few more privileges. Following these guidelines will help make this the best resource for heavy equipment on the net. Thanks for joining us and I hope you enjoy your stay!!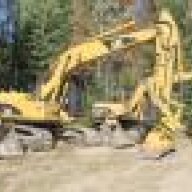 Last Activity:

Jun 16, 2017
Joined:

Jan 6, 2010
Messages:

929
Likes Received:

6
Loading...

Loading...

About

Interact

Signature

-'04 3500 Laramie Dodge Cummins Dually -20' 8-Ton Gooseneck
-'07 A-300 Bobcat c/w all the bells/whistles, Forestry Cab/machine Guarding, Strobes -Hyd Post Pounder,Skid-Pac w/probe, Ind Grapple, Buckets, 4'&8'Forks
-Davco 705 Hi-flo Mulcher (the Destroyer) f/exc & skid, BC Hi-flo Stump Grinder -Custom Built hyd Rock Rake (harley style),8'-4in1 Bucket
-'09 Hiflo 8424 Buhler Commercial Blower & Truck shute -8' Snow Blade w/fold back Wings
-'95 312 Cat Excavator c/w hyd thumb & guarding -'06 320 CLU Cat Excavator c/w hyd thumb & guarding
-'86 Western Star T/A Dump 425 Cat (fuel'd up HOT) -L8000 S/A Tractor 3208 Cat
-25' Trail-King hyd 20-Ton Tilt Deck
-58' Cutting Edge Portable Bandsaw Mill (56hp Diesel) c/w 24" Planer & Notching Saw -ect., ect., ect.